Restaurant | Cocktails | Outdoor dining | Take out | General Store
Takeout and Patio seating Wed-Sun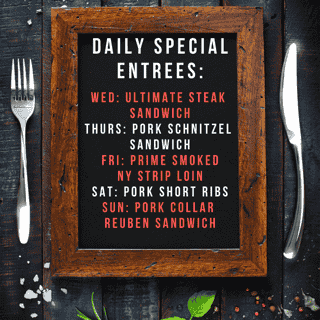 Meat N' Three Menu: Sept 23rd-27th
With our Meat N' Three menu you can "Choose 1 Entree & 3 Sides for $25". Pick from our consistent 3 entrees or go with the Daily Special!

Entrees: (Choose 1)
1. Smoked Bologna Sandwich: House smoked bologna, dill pickle slaw, potato chip, spicy mustard, white bread bun
2. Prime Bulgogi Short Rib Melt: Prime bulgogi short rib melt with pickled radish & carrots, spicy mayo, brioche roll
3. Cornmeal-Old Bay Crusted Fried White Prawns: 1/2 dozen large white prawns in our house crispy cornmeal dredge, served with dill tartar

Or choose a daily special entree (and add your 3 sides for $25): 

Wednesday: Ultimate steak sandwich
Smoked fillet mignon, romaine, house jowl bacon, heirlooms, buttermilk blue cheese dressing, sodo bun 

Thursday: Pure country pork schnitzel sandwich
Braised bacony cabbage, Beer mustard 

Friday: Steak night!
PRIME Smoked NY strip loin 

Saturday: Smoked Salmon Creek pork short ribs 
Bourbon black pepper bbq 

Sunday: Pork collar Reuben 
Pickled cabbage, Swiss Cheese, 1000 island, Rye 



Sides: (Choose 3)
1. Smoked Jalapeno Kale Caesar: garlic croutons, grana, carrots and cabbage
2. 10 Vegetable Vinegar Slaw: whole grain mustard and honey
3. Watermelon & Tomato Salad: mama lils puree, basil, feta, aleppo pepper
4. Shoe String Fries w/ Vinegar & Dill
5. Baked Odds & Ends Black Eyed Peas: with all the smoker bits, pieces, debris and deliciousness (NOT VEG)
6. Yukon Gold Horseradish Potato Salad: w/ loads of herbs and cider vinegar
7. Fried Shishito Peppers w/ Sea Salt & Smokey Yogurt
Cocktails to go!
House bottled cocktails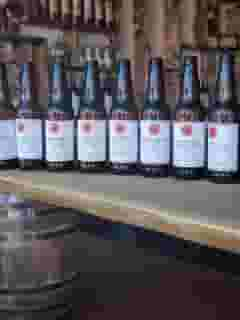 These cocktails to go are chilled, diluted and ready to serve! (Each order is 3 servings)
Straw-Barry Manilow: Tequila, Lustau vermut rose, Lustau fino sherry, spicy strawberry, lime: $25

Campar-garita: Tequila, Cointreau, Campari, lime: $25

Guns N' Rosemary: Gin, Aperol, Cynar, lime, grapefruit, rosemary: $25

Bourbon Crusta: Old Forester bourbon, Cointreau, lemon, absinthe: $25

Ru-Pear: Mischief vodka, lime, Creme de Poire: $25

Bourbon Margarita: Bourbon, Cointreau, house sour: $25

Mint Julep: Old Forester Bourbon, demerara, fresh mint: $30

Smoked Old Fashioned: Smoked Dickel Rye, demerara, orange & angostura bitters: $35

G Rye Joe: Rittenhouse Rye, Meletti Amaro, Fernet Branca, orange bitters: $35

Aztec Manhattan: Rittenhouse Rye, cocchi di torino vermouth, house chipotle bitters: $35
Seattle
4523 California Ave SW
Seattle, WA 98116

Hours
Wednesday - Saturday:
4:00 pm - 8:30 pm
Click RESERVATIONS for the patio OR
ORDER ONLINE for take-out! 
206-457-4029 or email evan@ladyjaye.com 
Pickup hours from 4:30pm-7:15pm
Sunday:
11:00 am - 4:00 pm